15.
accessGATE Mobile
accessGATE Mobile is a native mobile device application over which the user can easily access his archived documents from contentACCESS. An offline access is also ensured for read-only use. To be able to open the application from a mobile device, the administrator needs to perform the following steps in contentACCESS:
It is mandatory to install the proxy server over HTTPS connection from the actual contentACCESS setup package.
The proxy server must be published over HTTPS connection in the IIS (Internet Information Services) Manager.
On the system page of contentACCESS Central Administration, under the external accessibility settings the proxy server must be configured to use HTTPS connection.

 

The administrator has to create a new Forms user login for the already existing contentACCESS user (if the accessGATE mobile access must be granted to an already existing user), or to create a new user with Forms provider in contentACCESS (if the new user is not currently present in contentACCESS); over these credentials will the end user log in to accessGATE mobile:
The accessGATE mobile application can be downloaded on a mobile device (either on android or iOS) from contentACCESS Central Administration, from the accessGATE mobile page (System tab ⇒ Client applications ⇒ accessGATE Mobile). You can also search for accessGATE mobile in Play store or Apple store to install the app on your mobile device.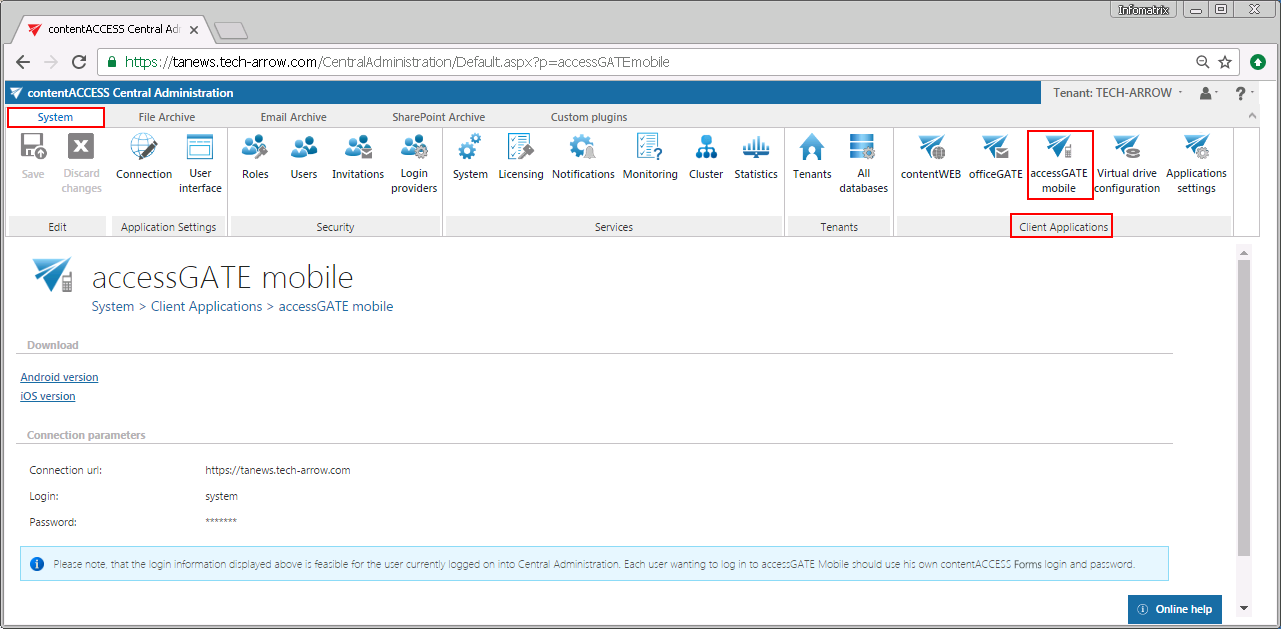 Once the user has successfully downloaded the application on the mobile device and opens the application, he will be asked to type in the server name (connection URL) and the login credentials. The server name (connection URL) is accessible (for the administrator) on the accessGATE mobile's page in the contentACCESS Central Administration.

The user will need to log in with the credentials of the Forms user that has been created above (in step "4/c").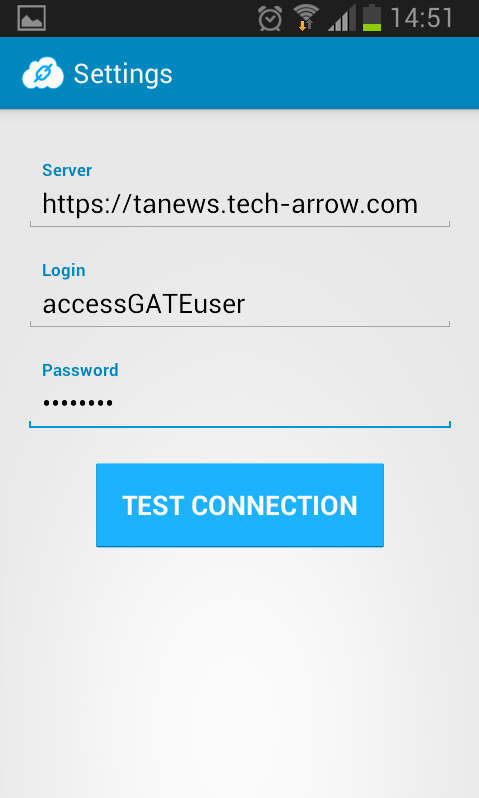 Once the connection is established, the search page opens and end user will be able to search in the archive on which he has permissions.