11.18.
How to assign database and storage to a mailbox?
↑ Back to Top
It is also enabled to assign a database and storage to a single mailbox. Select a mailbox under the Exchange mailboxes, click on … and select Assign database and storage option from the list.

Fill out the Mailbox configuration window (Screenshot A). If you want to edit these settings in the future, a pop-up window will warn you that changing the database containing already archived items the user will not have access to these archived items (Screenshot B).

Screenshot A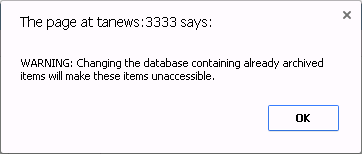 Screenshot B
The information about the assigned database and storage will be allocated on the right side of the address book window, in the last columns: