12.2.
SharePoint Archive job configuration
↑ Back to Top
After you have configured all necessary settings, you can create and configure a SharePoint Archive job. Click "+ new" on the Jobs page (SharePoint Archive tab => Archive group => Jobs), fill the required settings (Run on node, Display name) in the pop up window and click on "Add".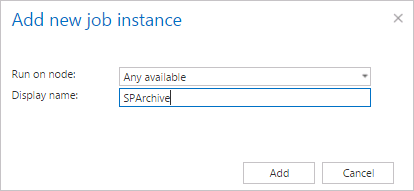 To configure the job immediately, click "Yes" in the next pop up window, or configure it later on (using the "Edit" option in the job's context menu). On the job's configuration page set the:
Scheduling settings – time slots of the job running
Retention settings – time period of keeping the archived item in the storage
Shortcut settings – the administrator can decide, if the archived item
– will remain in the original location, and will be directly accessible from there – option "Keep original item", or
– it will be deleted and will be accessible from the archive interface only – option "Delete original item". With this option only the items are deleted, folder, libraries etc. are kept untouched.
Connections to process – Click "+new", and specify the root connection and the relative URL in the pop-up window. A root can be a site collection, a subsite, a library or folder already defined in the Root connections section. In this use case we will archive our items on subsite https://techarrow.sharepoint.com/sites/testing/test, where the root is a site collection.

Item filtering – Set the age, size and/or file type filters to be used by the archive job. These filtering settings are the same like in a File system archive job.


Important!!!: When the user changes the file content of an already archived item, e.g. deletes a picture from the file and saves it to the original location, (and thus the file size will be reduced e.g. from 110 to 85 kB) and file size filter is set on >100 kB, then SharePoint archive job will not archive the newly created item by the next processing. The newly created item will be saved in the original location. From this reason, it is recommended to always check the size filter settings first, if a file has not been archived by the archiving process.

Resource settings – The number of worker threads responsible for the archive processes can be set here; by default this value is set to 2.
If the job is configured, save your changes and wait until it is started based on the defined schedule (or start it manually from the status bar).