2.1.8.
contentACCESS Central Administration
On this page you can define the port number that this component will use:
Port: This port is the physical port of Central Administration used by the Internet Information Services (IIS) on the current server.
The physical port cannot be changed later on, for example when updating the product. First the given component (in this case Central Administration) must be uninstalled, and then the port can be changed in the setup wizard. This rule refers to each contentACCESS component.
Fully qualified domain name: FQDN enables for the user to access the given component (in this case Central Administration) from everywhere (from home, from the office etc.). From this reason, this URL must be accessible from everywhere where the user is coming from. The FQDN that's defined here is written to the Application settings (System tab => Client applications group => Application settings page) in the Central Administration, and can be changed from there at any time. By the next update the setup will automatically read the value which is defined in the Application settings.
Hint: By double clicking the empty text field the wizard puts there the FQDN of that server. This functionality is the same by FQDN settings of further contentACCESS components, on the next installation pages as well.
Usually the physical port matches the port that FQDN used. However, in special cases, the FQDN port can differ from the physical port on the IIS. In such cases the following warning pops up for the user – this is expected if the FQDN port is routed to the physical port. In such cases the user can continue with these settings. The same rule applies for other contentACCESS components as well.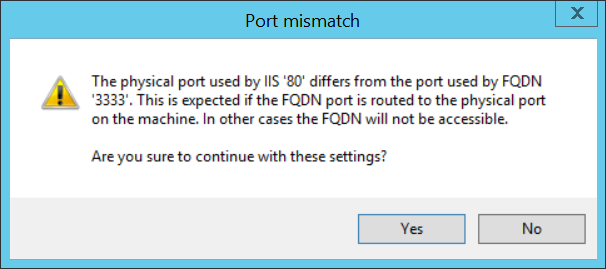 contentACCESS service connection: This URL is used by the Central Administration to communicate with the contentACCESS server. If contentACCESS server is installed on the same machine, you can use "localhost" as host name.