13.3.
SharePoint recovery job configuration
↑ Back to Top
SharePoint recovery is used to recover already archived SharePoint items that have been deleted from the original SharePoint location. All items that can be archived by contentACCESS are also recoverable. contentACCESS is able to recover subsites, libraries and folders, so if they have been deleted, you don't have to create them manually again for recovery job to work. It is also able to recover complete sites with their settings if the connection set in the connections to process is a site.
To create a SharePoint recovery job, create a SharePoint recovery job instance first on the SharePoint archive's Jobs page: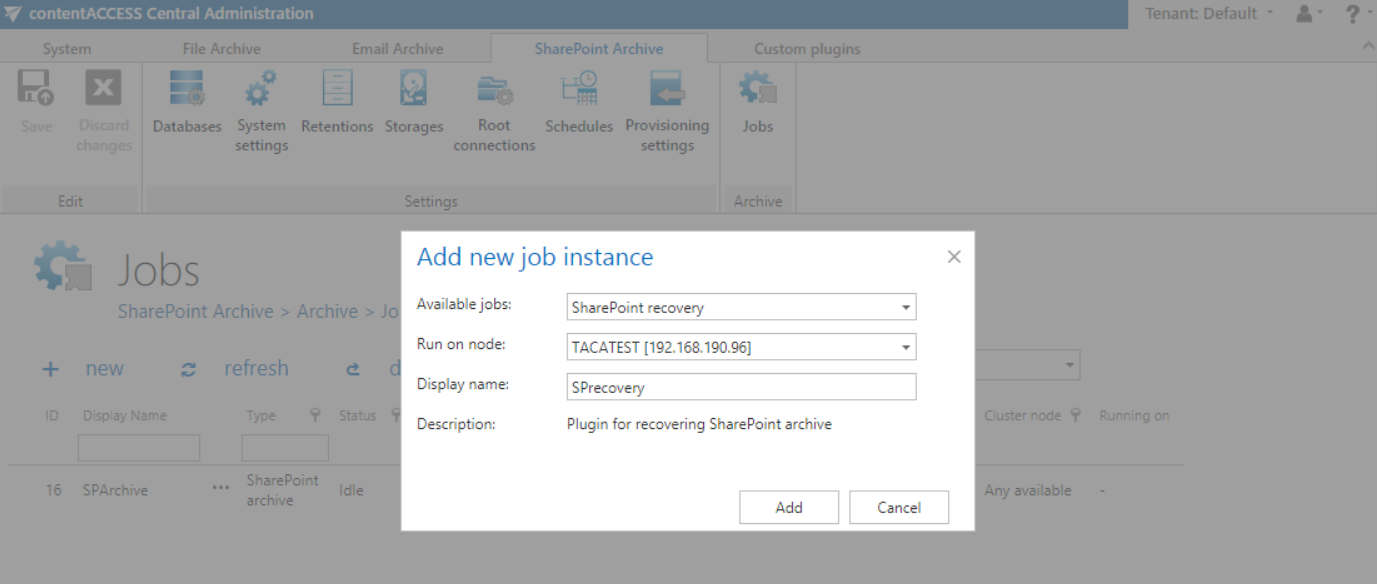 Further configure this job as follows:
Scheduling settings: set the time when the recovery job should run; this is usually a one-time action, so a one-time scheduler is set in this use case.
Recovery settings: by checking this checkbox (recommended in case a complete site should be recovered to an empty site), the job will recover not only files and/or folders, but all settings related to the site selected in Connections to process.
Connections to process: Set the path that should be recovered (root connection and relative path-if any).
Resource settings: the number of workers threads running in parallel.

Save your settings and wait until the scheduler starts the recovery process (or start it immediately using the status bar).