3.1.4.
contentACCESS Central Administration user interface
After you have successfully logged in, the Central administration of contentACCESS page will load. The ribbon is divided into 5 main tabs: System, File archive, Email Archive, SharePoint Archive and Custom plugins. Each tab is divided into several groups, which also contain several buttons.

General system settings (application settings, security settings, system database settings, external accessibility, license activation, clusters, statistics, setting up new databases etc. ) are accessible under
System
tab (marked with red frame on the screenshot above). Configurations of
File Archive, Email Archive
,
SharePoint Archive
and
Custom plugins
can be adjusted on the
File Archive, Email Archive
,
SharePoint Archive
and
Custom plugins
tabs on the ribbon.
You can switch between the tenants in the right upper menu of the Central Administration user interface.
In the user menu you can see the signed in user, the detailed information about the signed in user (About me), or you can change the already logged in user. Also here you can sign out from the Central Administration and log in to the contentWEB archive interface.
Click on the "?" question mark to roll down the help menu. Under About menu point you will find the information about the contentACCESS version that you have installed, here you can check the system uptime, and it also contains a link pointing to the company's website. Under Documentation menu point you can access all documentations related to contentACCESS software.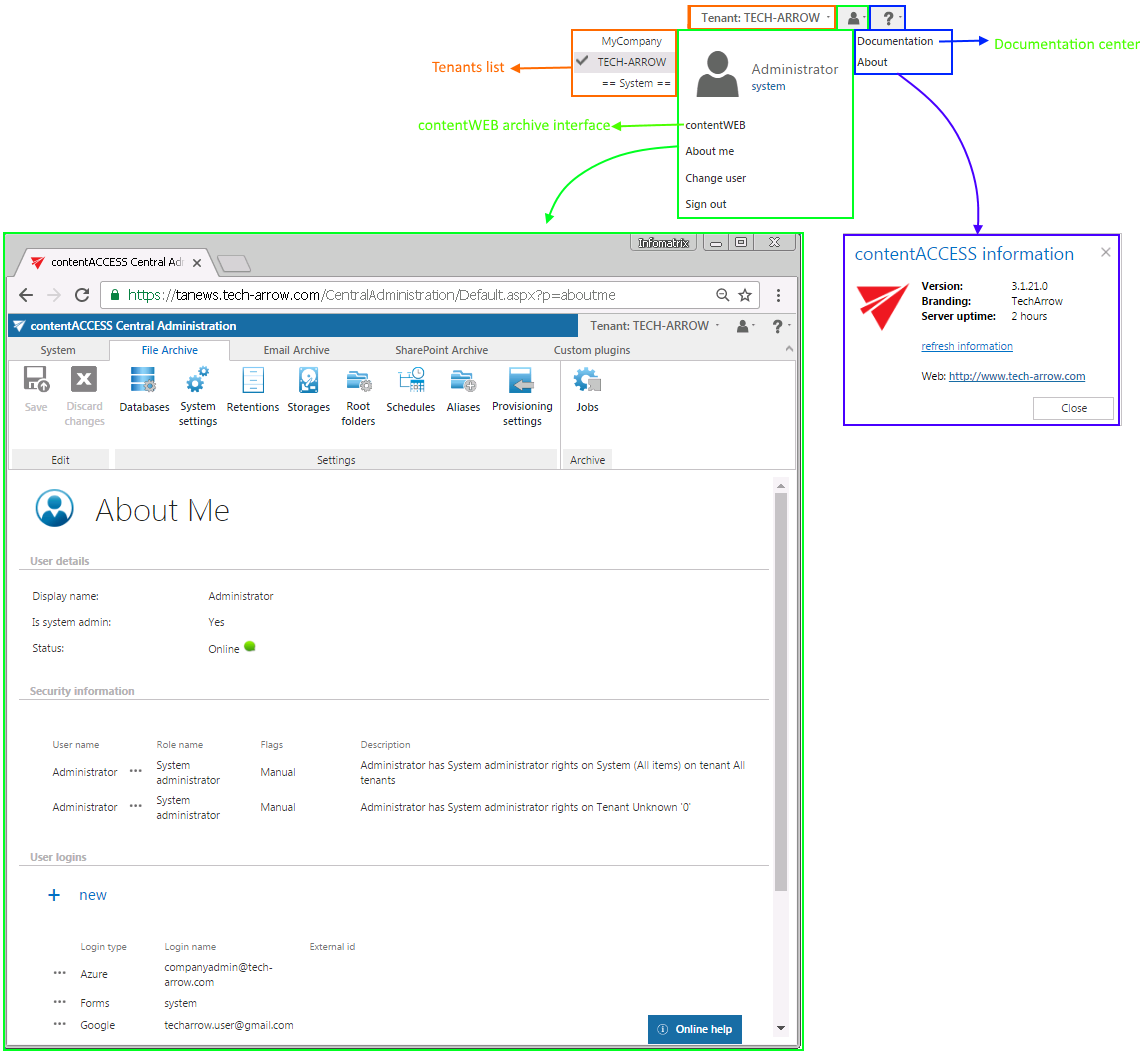 Note: In the About me menu under the Security information in the Role name column you can see the role assignment(s) of the signed in user. The Flags show whether the rights were given by provisioning job (flag name is Automatic) or manually (flag name is Manual).
In contentACCESS, the back/forward button is also supported:

Any changes made in the Central Administration must be saved via "Save" button, which is accessible in the left upper corner of the ribbon.

If the user has any unsaved settings, the system will warn him about it: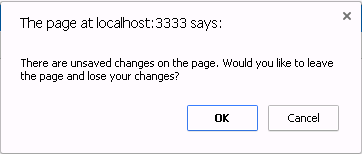 When you open contentACCESS Central Administration for the very first time, you need to create a tenant first (check section Tenants in contentACCESS). Further you need to adjust the system settings (refer to section General system configurations).