12.11.2.
Manage access to a mailbox archive (option 2)
It can happen that the administrator is asked to grant access permissions to the mailbox archive for a second (explicit) user. An explicit user can be anybody – a user who has never used contentACCESS before and now he has to view the archived emails, a colleague who stood in for somebody else during vacation time and needs to access the archive, somebody from the company who got a claim regarding older stuff and needs to access the already archived email attachments, invoices etc. In such cases, this (second) user must get rights to the mailbox archive(s) associated with the main mailbox user.
In this use case we will show you how to grant explicit rights to the archive mailboxes associated with mailbox "ane@ta.internal" for a user. To achieve this, the administrator should follow the next steps:
Navigate to the Email Archive tab ⇒ Archive ⇒ View Address book control on the ribbon. Under Mailboxes tab choose the desired mailbox, click "…" (ellipsis mark) and select Manage access option in the context menu.
Note:
This "manage access" option is available for the logged on administrator if his role assignment contains Manage tenant permission on the tenant and also View archive mailbox – All allowed rights on the tenant. Read more in
Managing access to contentACCESS objects
.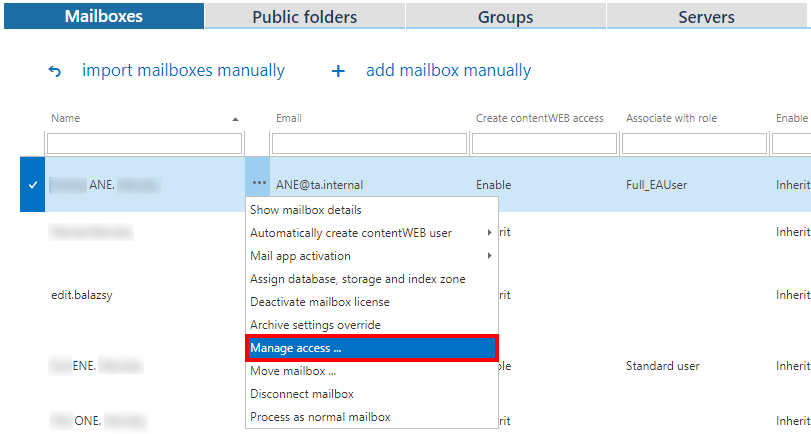 On the Manage access page click on + new. The Create new role association dialog will open. Select a role (Standard user role or any explicit role created on the Roles page) that this user will have. Further select the invitation type (invite new user/search for existing contentACCESS user/create new user), specify the login provider and the login credentials (if required).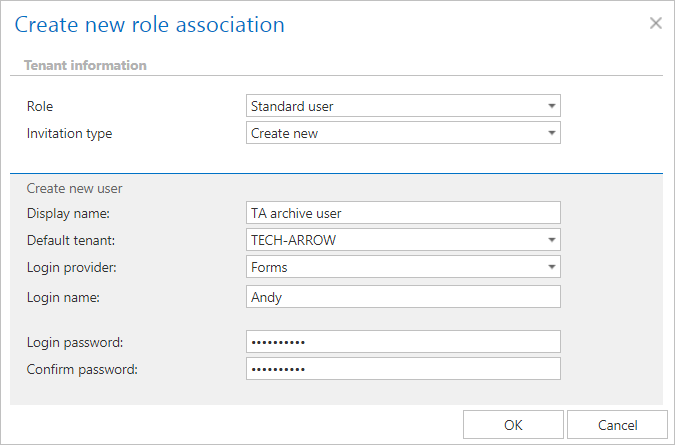 As this user was created manually, he got a Manual flag, which can be viewed on his User details page. It is also possible edit the user's login data, or to delete the user login. If the administrator deletes the user login, the user won't be able to log in to contentWEB with this user login anymore. These actions are accessible from the context menu of the provider, under User logins section.