7.5.2.
Mixed Exchange environments in the Email Archive system
contentACCESS is supporting a wide range of Exchange Servers, starting from Exchange 2007 SP1 up to Exchange 2016. A company can simultaneously use multiple versions of Exchange servers. In such cases contentACCESS needs to process/archive the mailboxes hosted by all these Exchange servers (versions).
There are some rules for how to configure the archiving in a mixed Exchange environment. This chapter will provide you with a quick overview about these configurations.
In this use case, we have the following Exchange versions in our domain:
Exchange server 2013
Exchange server 2010
We would like to archive some mailboxes – the part of them are hosted by Exchange 2013, but some of them are still on Exchange 2010. This is a common scenario when the company is already migrating mailboxes from a lower to a higher Exchange version. As first step, it is recommended to sort the mailboxes to be migrated into Exchange groups – these groups will be later provisioned by the Email Archive Provisioning job into the contentACCESS Address book.
Further we continue with the EWS (Exchange Web Services) settings. In Central Administration, open the System settings page (Email Archive tab => Settings group => System settings). Go to section EWS settings. Select your server type (On-premise) and select the highest Exchange server version that is used – in this use case Exchange 2013. Set the necessary parameters described earlier, test the connection and save your settings.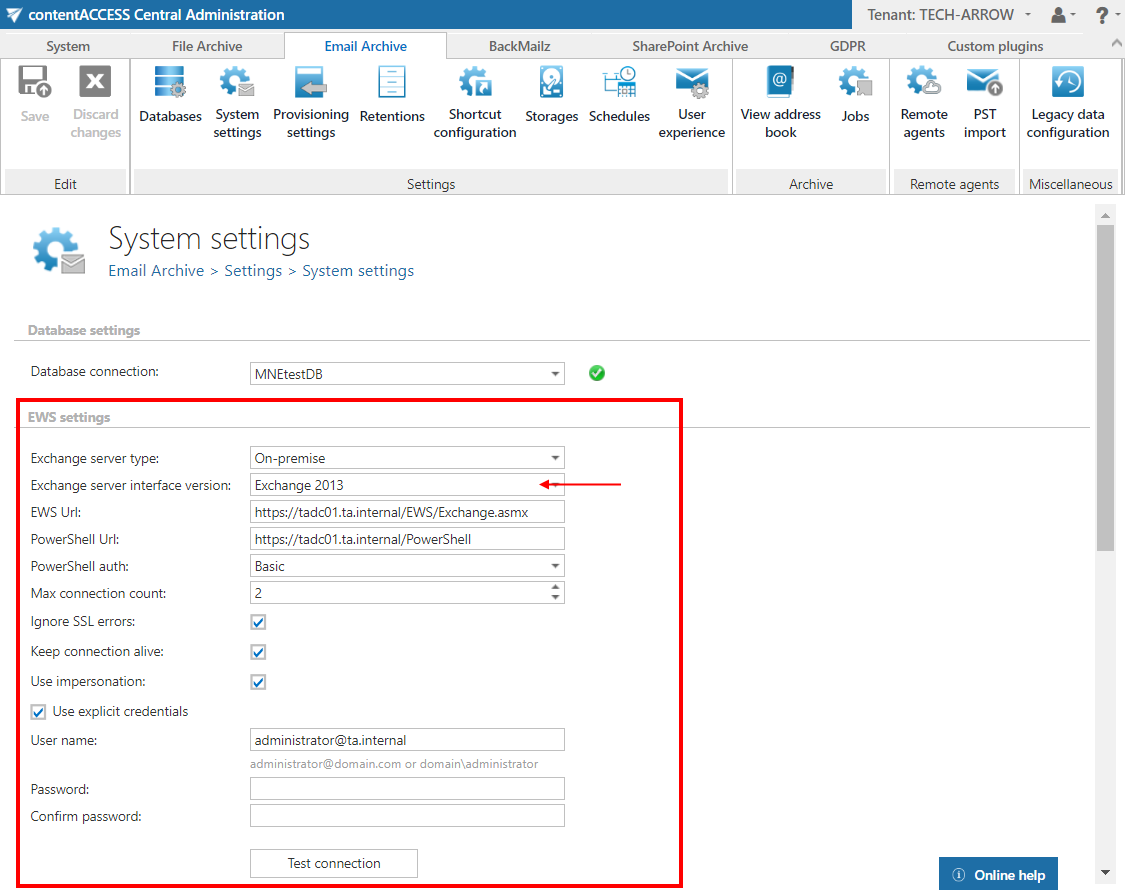 Now we need to set the Exchange groups to be archived in the Email Archive Provisioning settings. Open the Provisioning settings page (Email Archive => Settings => Provisioning settings).
Select the specific Exchange groups (or Exchange servers including all groups) that should be archived and start the provisioning job to synchronize them to the contentACCESS Address book.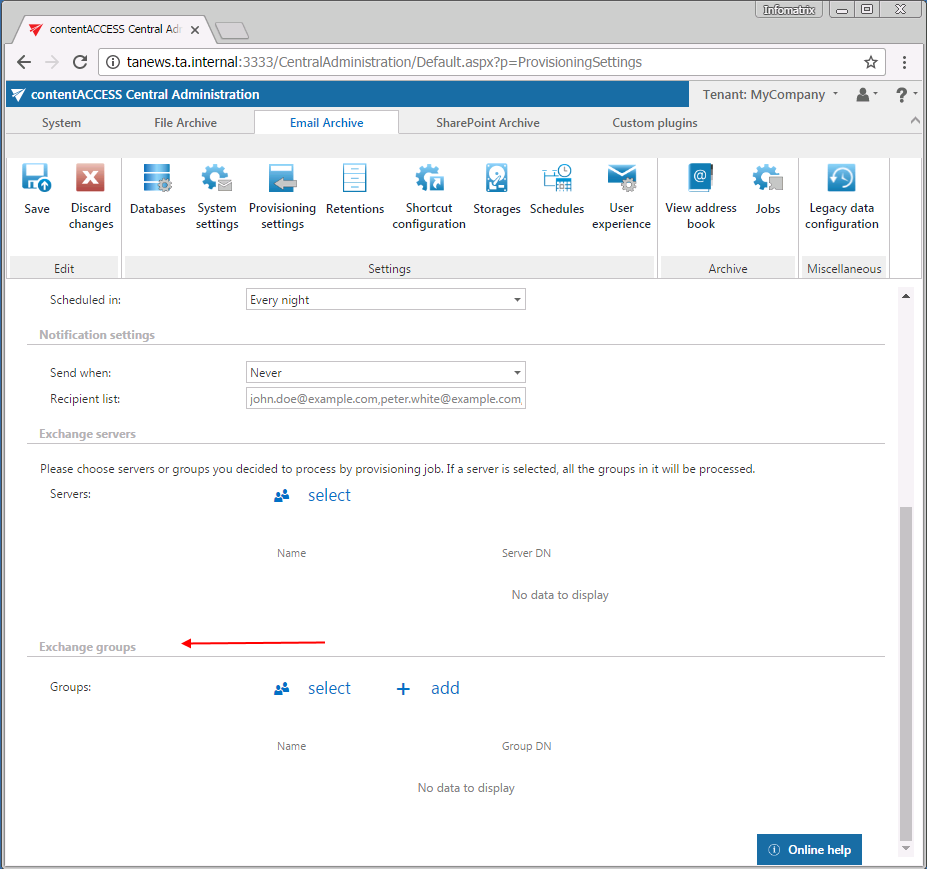 After the provisioning job has finished the task, both Exchange versions (2010 & 2013) and the provisioned Exchange groups will be in the Address book (exchange 2013 not shown on the screenshot):


The context menu of the Exchange servers allows to change the server settings:

By clicking this option, the "Server configuration" window opens, which allows to change the EWS version for the server and to define a custom EWS URL for the server. "For the server" means that all mailboxes belonging to the server will use those values. This is useful in mixed environments (example: 2010 and 2013 in one domain – you can define different URL for both servers!).

The combo box allows you to select the option "Not specified". This is a way to reset your custom settings – and use the global one (see the System settings page – EWS server interface version).