9.
HTML shortcut configuration
Open the Shortcut configuration page (Email Archive => Settings => Shortcut configuration). In section HTML Templates, click + new to create a default HTML template file. Name this HTML "Default" (Screenshot A). Then click + new option under the breadcrumbs, and according to Screenshot B, create an HTML shortcut with name "Shortcut HTML". In the repository window, select the "Default" template you created a while ago.
If you check the Keep formatted body checkbox, the original HTML body won't be converted to plain text during the shortcut creation, but the system will try to inject the attachment links into the existing message body. A template, which supports this formatting option, must be selected. It will also become possible to keep inline attachments in the mail body by checking the Keep inline attachments checkbox.
The Remove attachments checkbox is checked by default for HTML shortcuts. Removed attachments can be later retrieved by double clicking on the archived email in the compose window. It is also possible to specify here the Attachment placeholder name.
If you want a category to be added to the archived emails, check the Add category checkbox and type the name of the category into the textbox.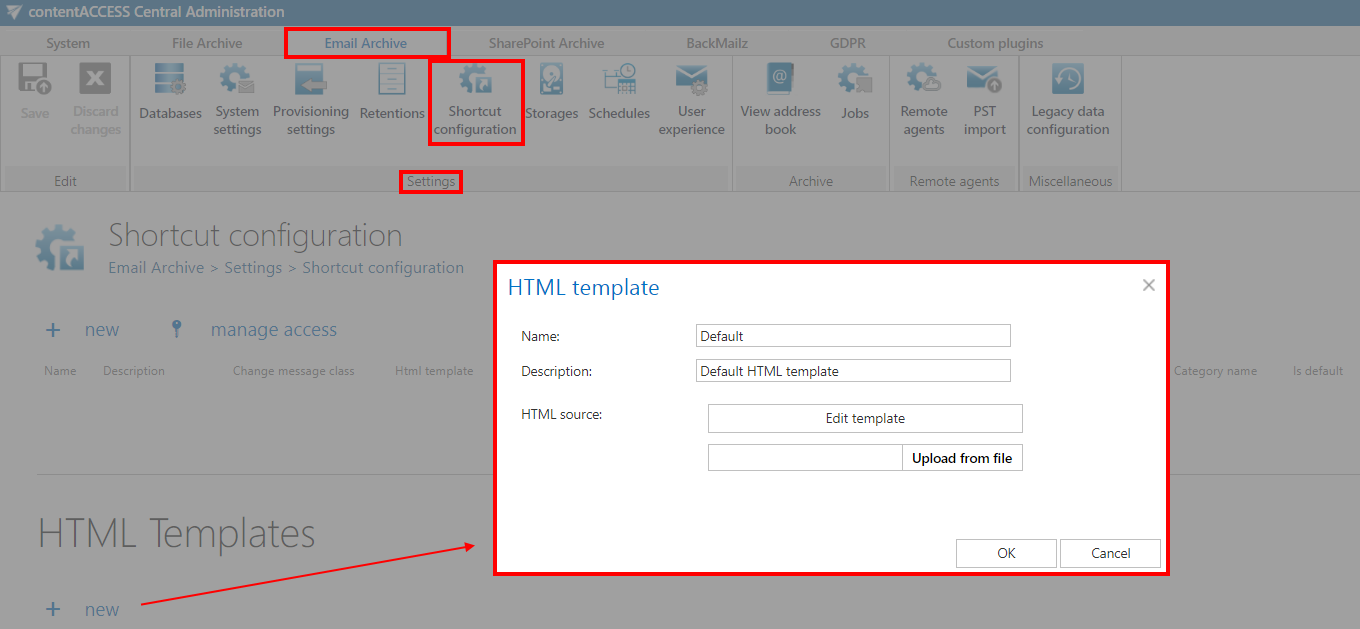 Screenshot A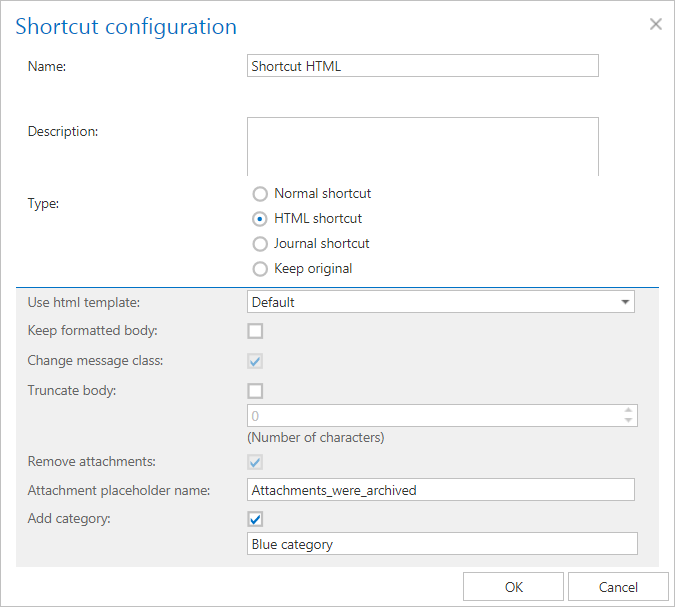 Screenshot B
contentACCESS uses shortcuts to retrieve the archived items. It is recommended to use HTML shortcut instead of Normal shortcut. Normal shortcut works only in MS Outlook if contentACCESS Outlook forms are installed. The HTML shortcut will work with MS Outlook and OWA. If HTML shortcut is used, then the archived email message and the attachment are accessible using the links in the HTML. The archived emails will be marked with the category you select under 'Add category' option. Thanks to the Remove attachments option, the attachments will be stored separately from the body of the email message.
The shortcut created, at first, is automatically set to default. Default shortcut is used by manual archiving by the Mail app and OWA integration. The option is configurable on the Shortcut configuration page using the context menu.
The HTML Templates are free for editing. The size of a HTML-template cannot exceed 32 kB; for this reason, it is not recommended to use MS Word for editing HTML templates.