12.
Provisioning settings
Open the Provisioning settings page on the ribbon (Email Archive => Settings => Provisioning settings). Configure the provisioning as follows: a) set the "Provisioning scheduler" from the list, b) under Notification settings, choose "Never" from the dropdown list (monitoring job will check potential system and job misconfigurations), and c) under Exchange groups, click + select and add "Archiving" to the list of objects to be provisioned.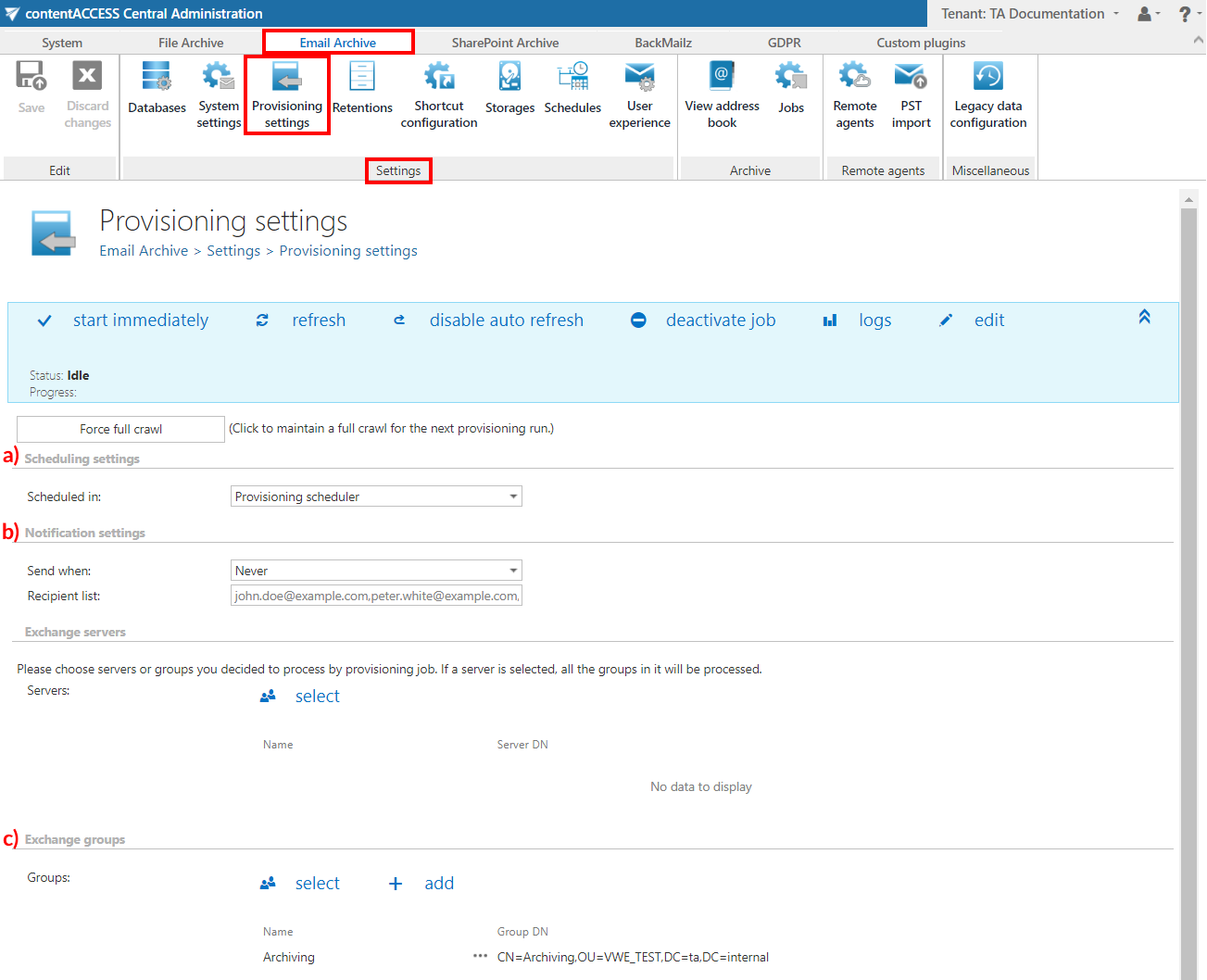 Important!!! The provisioning job synchronizes the Exchange with the contentACCESS Address book. Therefore, the Provisioning job must run before the archiving process is started. We configured a daily scheduler starting at 1 AM for the provisioning job and a daily scheduler from 6 PM for the email archiving job. It is also a solution to start the provisioning job manually to ensure all the selected objects are synchronized into contentACCESS.
The provisioning job is an elementary job to one or more email archive jobs, which should extract Exchange groups and subgroups and synchronize these changes and mailbox permissions with contentACCESS. If the whole Exchange server is selected, then it is redundant to select Exchange groups for processing.
Under Notification settings, you can also set where and when to send emails about the potential errors, warnings that might occur during the running of the synchronization. It is recommended to send these emails when errors occur, but if you use the monitoring feature, then this step can be disregarded. If you use notifications, then it must be first configured in System => Services => Notifications.


Under Archive settings, check the Assign to mailbox checkbox. 3 dropdowns and the Create contentACCESS Portal user checkbox will appear. With the dropdowns it is possible to select the default Database, Store and Index zone for the mailboxes. During the run of the provisioning job, if there are new mailboxes provisioned, the selected Database, Store and Index zone will be automatically assigned to them. Check also the Create contentACCESS Portal user checkbox (this must be enabled to automatically give access to end users). Thanks to this, a contentACCESS user will be created with the selected Mailbox owner role in case that Create contentACCESS Portal access is set to Inherit in the Address book for that mailbox AND:
the mailbox is not in any group and Create contentACCESS Portal access is not set to Forbidden for the server in Address book, OR
for all the groups the mailbox is a member of, the Create contentACCESS Portal access is set to Inherit in Address book and Create contentACCESS Portal access is not set to Forbidden for the server in Address book, OR
for at least one of the groups the mailbox is a member of, the Create contentACCESS Portal access is set to Enable