7.
Running the migration
In this section you can read about starting the migration and the migration steps to be defined before starting the migration. Provided that the users from MAM are mapped to the EV users, the users are assigned to the desired group and all necessary settings have been configured, you can start the migration process.
Expand the Groups node in the Archive Explorer pane and open the desired group's context menu. Click "Migrate items". The "Migration start" dialog will shop-up. Here you can define the migration flow of the selected migration group.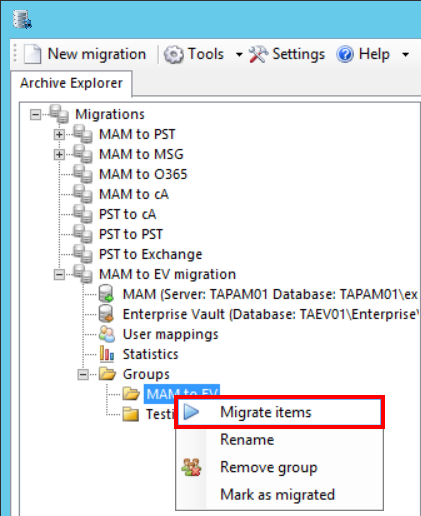 Note: The migration can be started not only from the level of groups, but also from the migration instance (1st node in the Archive Explorer pane; "MAM to EV migration" on the picture above). In this case all user mailboxes will be migrated, regardless of their group membership.
In the next chapter the steps of the migration flow will be described in more details.