8.1.
Setting favorites
If you have a couple of folders/documents that you need to use more frequently, officeGATE offers the possibility to define them as favorites and have an easier access to them. The yellow star (the 1st node) in the officeGATE's tree view collects your favorites.
Note: The tooltips of Favorites show the parent folder, which makes the navigation even easier.
To add a folder, library or contentACCESS plugin between Favorites, click on it in the pane, open its context menu and select Add to favorites from the list. The selected folder/library will be shifted under the Favorites node.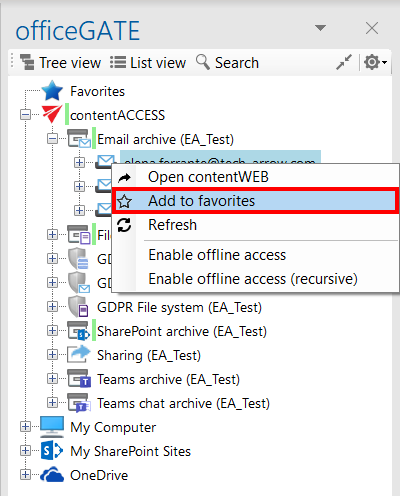 You can remove the selected locations if you do not want them to be included between favorites any more. To remove a favorite location from the list, open the Favorites node (blue star) from the pane, select your favorite, open it's context menu and click on Remove from Favorites option.