4.1.
Chat list
The existing chats and recent conversations are displayed here. The chat list is sorted based on the last received messages, just as in the Teams. If a new message arrives, this chat will be automatically moved to the top of the list. The chats can be opened from the list with a single click, and the user can send new messages to the participant or see the previous conversation with the user.
When viewing the Chat list, the following properties can be seen:
1. Profile picture and name of the user
2. Search textbox – search within the chats
3. Pinned chats – the user can pin some chats. These pinned conversations are also sorted based on the last message date.
4. Recent conversations
5. Participants – with whom the user has the chat
6. Snippet from the last message
7. Send date of the last message
Each chat has a context menu, which appears if the user moves the cursor over the chat. In this case, the following options appear:
Open in MS Teams desktop app – this opens Teams Windows Application if installed on the user's machine and directly navigates into the given chat
Mark as read/unread
Pin/unpin – allows the user to pin the chat. Pin is an excellent feature to keep your priority conversations always on the top.
In teamsTALK, there's two ways to get notification about the new messages:
1. The number on the Chat list icon shows the amount of the conversations having at least 1 unread message
2. If one of the conversations is opened, the number on the Back button shows the amount of the conversations having at least 1 unread message. If you move the cursor over the number, it will show a tooltip.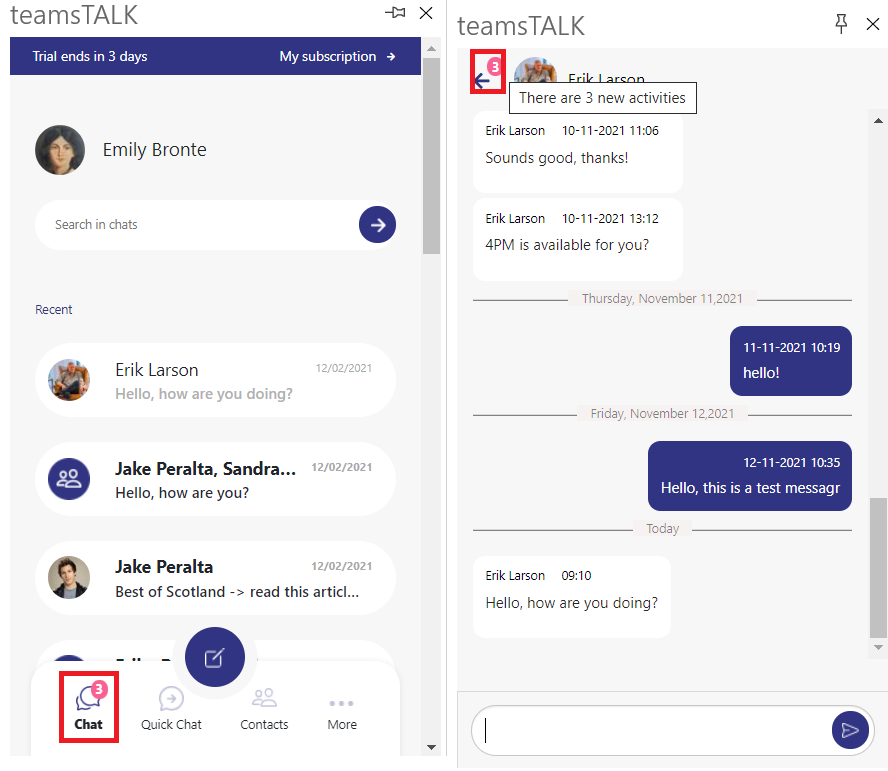 Note: The unread status can't be synchronized with the Teams client because teamsTALK manages the unread states internally. This means if the user uses the two apps side by side, and reads the new messages in one app, the same messages will still be displayed as unread in the other application.