4.5.1.
Settings
The Settings function opens the settings page of the application. This page allows the user to configure the application and displays the logged-in user.
The Settings page provides the following actions:
1. Email – email address of the logged in user
2. Default view – this allows the user to define the startup view of the application. The options are the following:
Chat – opens the Chat list
Quick chat – opens the Quick chat
Last used – opens the last used screen, what can be anything, even one specific chat
3. Change language – allows the user to select the language of the application. Currently the English and German languages are supported
4. Region – you can select the date and time format you want to use based on your location or is the most convenient for you (for example, if you select Hungary, the date will be displayed as 2022.06.09., and if you select Germany, the date will be displayed like this: 09.06.2022 on the chats and messages)
5. License status – by clicking on the word "Valid" or edit icon the user can enter the license information page and check the license details
6. Report an issue – opens a new email and pre-sets the:
To: support@tech-arrow.com
Subject: teamsTALK App issue
Body: Dear support, I'm having troubles using the app. My issue is …
Logs from the app: Saved automatically from the teamsTALK

Important: Showing a new message form in compose mode is not supported by Outlook. Please note that the "Report an issue" button won't be available when you open teamsTALK in a new, empty email.
7. Version – displays the current version of the app
8. Sign out – signs out the user from the application and shows the Login page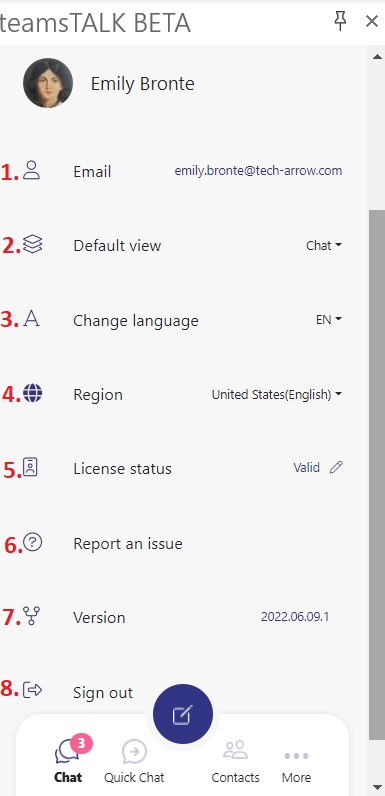 By default, teamsTALK automatically updates the application if a new(er) version is available when the app is re-opened. But, because teamsTALK is pinned for most of the users, the app is rarely closed or restarted. In this case, an automatic update message appears when the user log-in again with the credentials. This notification will update the latest version by clicking on the "Update now" button.
Conclusion: if the app is running or the user is using the app, then the update is running in the background. If the user is not using the app or the app is not running (but pinned), then the update notification appears.